Alexa is Amazon's virtual personal assistant. It has been around for about two years now. It was introduced to help people live a better and organized life and it keeps getting better.
Alexa, which was designed by Amazon's secretive Lab 126, can listen to your voice commands and respond with contextual responses to help you get the job done.
Why the name "Alexa"?
Amazon developers chose the name Alexa because it has a hard consonant with the X, which helps it to be recognized with higher precision and it sounds almost same in all accents. This similar sound makes it even more universal.
It is available in many languages including English, French, Spanish, German etc.
Some of the devices that support Alexa are – Amazon Echo Dot, Amazon Echo Plus, Amazon Echo Show, Amazon Tap etc. Their prices vary from Rs 4000 to Rs 8000 depending on the generation and color.

Real time applications of Alexa
How would you feel if you can make a call without even touching your phone or play music just by talking to Alexa?
Yes. Alexa can do all these tasks – whether you want to know about the weather forecast before heading out of home or simply about the traffic on the way to your office, Alexa can help you in giving every little detail and that too personalized according to your preferences.
Youngsters nowadays do not have time to read the newspapers or check emails or messages every now and then. Alexa can help you overcome this problem too. Alexa can read news for you. Take care of your calendar meetings and events. Even shopping and much more.
Alexa can also be helpful in home automation. In other words, our home's electronic/electrical devices can be controlled just by talking to Alexa.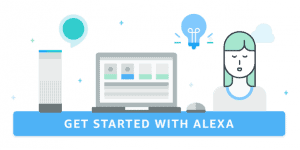 How does Alexa work ?
Lets dive in a little deeper now.
The Echo is a device that uses speech recognition to perform an ever-growing range of tasks on command. Amazon calls the built-in brains of this device "Alexa" and she is the thing that makes it work.
Alexa is a cloud service, which means it's a software based service running on different servers and accessed through the internet. Once Alexa hears the voice command followed by the wake word Alexa, it sends recording over the Internet to Amazon. The service that processes this recording is called Alexa Voice Services (AVS). Run by Amazon, this converts the recording into commands that it interprets.
Alexa parses the spoken words, interprets the command and convert them into the right web services to get the correct response. Alexa transforms the response and sends it back through audio to your echo and in many cases through text and home cards to the screen enabled devices.
It's more than a simple voice-to-text service —
You can ask the gadget to play music
Tell you the weather forecast
Add to your to-do list
Read you your schedule or the news, and much more.
If you have compatible smart-home devices, you can tell Echo to dim the lights or turn appliances on or off.
It can also work with online services.
Link Alexa to Uber, for instance, and you can request an Uber by simply asking Alexa.
Link it to Domino's, and you can order a pizza with your voice.
By design, you interact with the device hands-free so that you don't have to stop everything and fumble with your phone or get to a computer (although you do need to access an app or website to configure some of its settings).
Want to listen to some Beethoven while you fix your hair, set some mood lighting and heat up the smart oven in the other room? The Echo's for you.
Alexa is much more than a small box which can fit into any corner of your home. Alexa is connected to the internet through a system have connected powerful servers that provide instant connectivity to all the information you need. Alexa System is connected directly to Amazon's massive private servers. The server is equipped with state of the art technology that allows every individual Alexa Customer to have their own account with their files.
This approach means that the Echo and Alexa can do a lot of things, and the list is getting longer: Amazon is adding more features (called skills) to Alexa, and a smart programmer can build their own. This means that you can use Alexa to control things that aren't on the supported list.
How we can use it
Most devices with Alexa allow users to activate the device using a wake-word (such as alexa)  but you can also change it to 'Echo'  or 'Computer'. Steps to connect your Alexa device with your alexa app –
Create an account on the Alexa app.
Let the contacts get synced so that you can use it later for communication.
Power on the device and let it go in the setup mode. With the help of internet, connect the device and app.
You can also train your voice to Alexa. So the next time you wake-up Alexa it will recognize your voice immediately and give you personalized results.
Now interact with Alexa and you're all set.
I`ll explain "How to create private skills on Alexa" in my next post.
Life's made easy by Alexa !